PLEASE NOTE: THIS COMPETITION IS NOW CLOSED - THIS PAGE IS FOR ARCHIVAL PURPOSES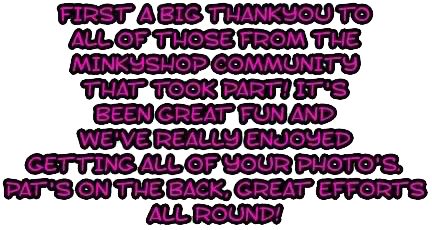 PRIZES
FIRST PRIZE: 1x MinkyShop Schoolgirl bag worth £34.99 1x Naruto Keyring (these are really cool!) 1x £10 voucher to spend on or toward anything in store! 1x MinkyShop loose socks (your choice of style - stock permitting!) 1x Red Shadow DVD (Japanese ninja live-action movie - subtitled 2003) 1x panties
SECOND PRIZE: 1x £5 voucher to spend on or toward anything in store! 1x Naruto Keyring 1x panties
THIRD PRIZE: 1x 20% discount voucher to spend on or toward anything in store!
RUNNER UP PRIZES: 15% discount voucher to spend on or toward anything in store!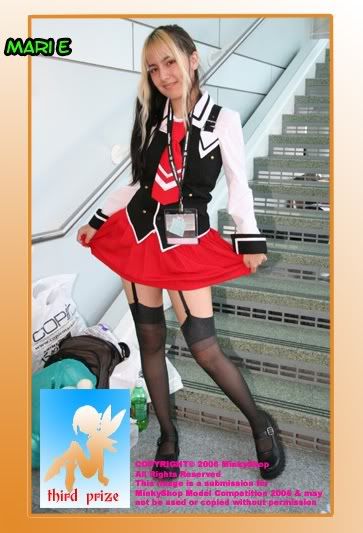 You're thinking "what third place", right? Well the competition was so tough, we added a third prize. It's only going to be a little something to say well done for a really cool Bible Black pic to Mari E - you look super in the outfit, and it's a totally cute picture -well done!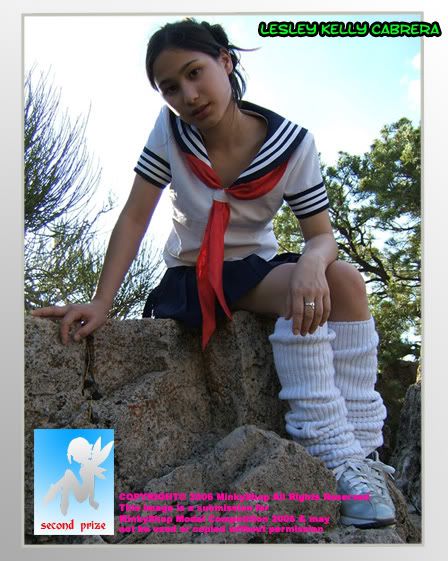 The second place prize goes to a gorgeous school uniform shot from Zach Berger (photographer) and Lesley Kelly Cabrera! We really liked the set up of the image and the cool pose - pretty moody shot! And of course, Lesley makes the product really shine - well done guys, thanks for your entry!
Drum roll please...

MinkyShop Model Competition 2006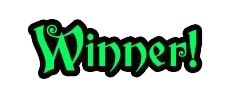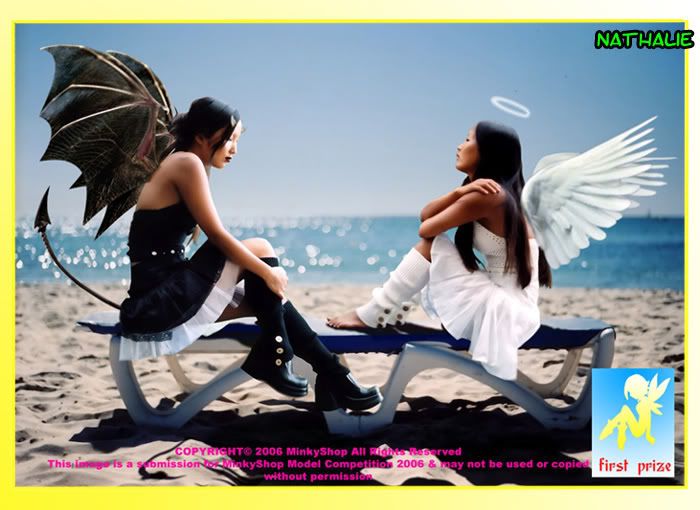 Wow, what an effort! Amazing design, layout, costumes and Photoshop work. MinkyShop's loose button socks never had such a fanfare, and our Gothic Lolita skirt on the dark angel really rocks.
It's a really nice play on the MinkyShop 'logo', with contrasting light and dark angels. Top notch work and a great idea!
So well done to Jean Nicolas (photographer) and Nathalie (model) for this outstanding effort - you are our MinkyShop Model Competition winners!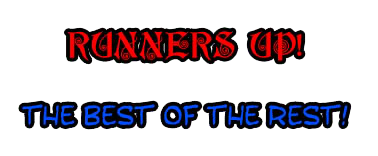 We had so many great efforts and entries it was difficult to choose a winning three. Thanks to all those who entered (too many to list here!)

We've decided to give all of the following runners-up a 15% discount on any future purchase with MinkyShop as a token of appreciation for your hard work! Be sure you contact us to claim your personal discount number!